Yikes! Almost two months since my last post. I have to say, I'm loving the "insta" part of Instagram, and it's kind of spoiled me out of blogging.
But I thought my newest project was worth blogging about.
My sweet husband recently deployed. Right before he deployed, he bought himself an iPad, so he could stay in touch with us easier. He has a little laptop, but it's pretty old, and therefore pretty slow. Once he got his iPad, I knew I needed to make him a little pouch for it. So I did! Here it is...
I used some of
Kelly B.'s
wonky alphabet paper piecing pattern
, shrunk way down for the FSU, and I used Essex Linen in Black along with some Florida State colors.
This is the other side of the pouch...
And a view of the zipper...
I was happy with how it turned out, even if it was a little snug.
Little did I know that at the same time he bought his iPad, he bought me one, too. I found out after he had already left for his deployment. His mom called to tell me there was a surprise under his nightstand - and there it was! To say I was surprised, is an understatement. What I was even more surprised about was that he had pre-recorded videos for me and each of the kids for us to watch whenever we want to. Isn't he the sweetest?
Anyway, I love my iPad, and the pretty green protective case he got to go with it. But I wanted a pouch, too!
I had recently seen a pattern for a cute iPad pouch on Instagram, but couldn't remember whose it was. So I started going through all of my IG friend's feeds to find it, and I finally did. It was
Cindy's
(of
Schoolhouse Patterns
)
eClutch pattern
! Isn't it cute? I loved the pocket, and thought that would come in handy when traveling. And one of the things that really made me take notice of this pattern, is the flap that goes across the length of the iPad. It was just a nice little feature that set itself apart from other tutorials and patterns I had seen and made previously.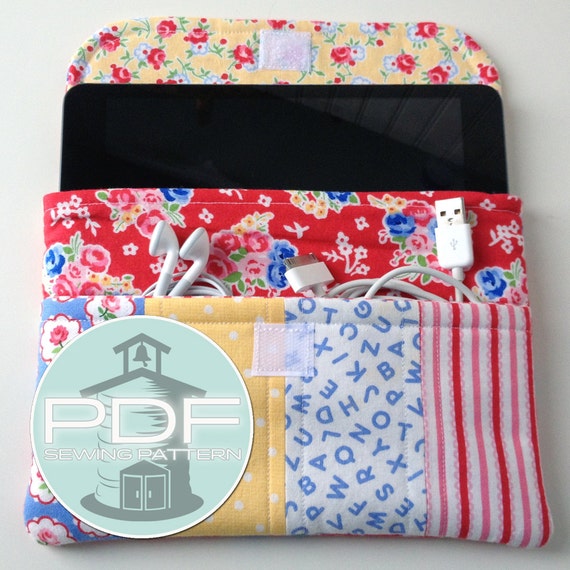 I quickly bought it, and started my planning.
I realized that I needed to change the pattern up a bit, because I really wanted to use this charm pack of
2wenty-Thr3e
, and a charm square isn't big enough for the strips needed for the front pocket. So I decided to make the front pocket and the back exterior patchwork-y. This picture doesn't show it, but I also quilted those sections, because every patchwork piece needs quilting, right?
Let me just say that the colors in this fabric line make me so ridiculously happy! I'm so glad that I'm using it in something I'm keeping for myself!
I thought the 2wenty-Thr3e went nicely with Kona Curry and a gray and white stripe from Moda. Here's the finished product...
I found that cute button at my
LQS
, and thought it would be a nice addition to the front flap. It also covers up the stitching from the Velcro (because I forgot to add the Velcro when I was supposed to).
Here's what it looks like opened up.
The patchwork-y back that I just really love...
And a peek inside. The iPad and it's case fit perfectly! FYI - I thought that the pattern wouldn't fit my iPad with it's case on, so I made the pattern bigger and tested it first. Once I did that, I realized that the original pattern would work just fine with the case, so I followed the patterns original dimensions when I made this one.
I loved making this pattern, and will probably make more of these! They would make great gifts, and I might even make another one for myself (although I can't imagine I'd love it as much as I love this one).
The good thing about Cindy's pattern is that there are measurements for not only the iPad, but the iPad Mini and the Kindle, so it's very versatile! If you've been wanting a pattern for a project such as this, I highly recommend this one!